How to configure Image Map Pro plugin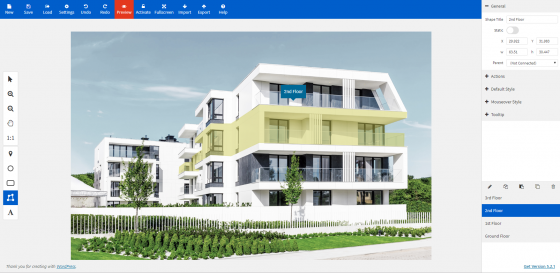 Image Map Pro is so much more than just another image map plugin. Place locations, add text, yeah sure – that's true. But that's where the ordinary stops. Image Map Pro comes with its own feature rich web app, so you can quickly and easily create the most comprehensive selection of custom image maps, pins, SVG and polygon shapes, and immediately export them to your website.
Installation:
Navigate to Theme Dashboard > Install Addons > Image Map Pro > Install
Go to Plugins > Image Map Pro
Add a new template – New > create new.
You can import the vectorial shapes from https://demos.hogash.com/apollo-residence/new-apartments/ using the plugin import feature.
All you need is to click on the import button, select image map pro code and copy and paste the JSON code from your Apollo Residence package\Assets\Image Map Pro.
You can load a  new image from Settings > Image > Choose Image. Also, you can drow a new polygon from the left toolbar, click on the polygon icon and then on the loaded image in order to drow a new shape.
Features:
Custom Polygon Shapes
Over 600 High Quality FontAwesome Icons
Super Advanced Backend Editor
Content Builder for Tooltips
Fully Responsive
JavaScript & HTML API
Click/Mouseover Actions
Custom Styles for Shapes
Image Map Import/Export
Undo/Redo Functionality
Zooming in the Editor
Fullscreen Capability
Rename & Reorder Shapes
Copy/Paste & Duplicate Shapes
For more details, you can visit https://imagemappro.com/documentation/ and https://imagemappro.com/tutorials/